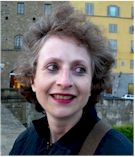 Painting for me is like breathing — I can't live without it. When I was eleven years old I decided to be a fine artist after I painted a portrait of an imaginary little boy. The excitement of working in oils and the freedom of expression so took me that I never stopped painting.
For years I painted portraits of actors. I used photos I took off the television and became quite adept at portraying facial expressions. I attended classes at the Art Students League, School of Visual Arts and New York University, as well as several life drawing workshops weekly, while living in SoHo, New York City.
I lived in England for a while. The historical Abbey and Castle ruins spread throughout the country became a new subject matter for me, having only painted people. I worked in pastel on paper and oil on canvas, again using my own photographs as reference. I love the English theatre and saw many plays. This gave me an opportunity to meet actors and photograph them. I had two solo exhibitions of my paintings of actors while I lived in London.
I lived in Seattle from June 1989 to January 1991. In Washington State the awesome power of nature overwhelms the cities. It inspired me to paint nature as frequently as people. I also had two solo exhibitions in Seattle.
After returning to New York I was diagnosed with the cancer lymphoma. During the illness and treatment, my subjects were my dreams, hospital images, my doctors, and myself during treatment. I ended with a set of works I called The Lymphoma Series. This grew into a book, Myself Resolved: An Artist Confronts Cancer, and a video, Healing Through Art, based on presentations I gave around the USA for cancer survivors and health professionals.
I enjoy painting in series, and creating themes. One series I call "Shimmera". The works are of a nude figure moving through layers of colors and light, creating a transparent quality – a shimmering effect. I have begun the "Prospect Park Series" and continue to paint from Brooklyn Botanic having done two series already; the "BBG Dream" Series and the "BBG Vision" Series. You can see those works on my New York's Nature page.
I continue to work on my various travel series, a large body of work reflecting the many travels my husband and I take each year. I have broken this into three pages as our travels have branched out: Europe & Beyond, Africa, and The Americas.
See my list of Publications and Exhibitions. My work continues to explore the fascination I have with healing, change, growth and the very essence of life in all things around us.