Lymphoma Series
The idea behind art as a healing force came to me only after a brush with death and cancer. I find art can be a way of solving problems and understanding difficult issues or events in one's life.
This series portrays my body throughout treatment, images I had seen or dreamed, and my doctors. I have shared my paintings and my experiences all over the USA. I am the author of "Myself Resolved: An Artist Confronts Cancer", a book in which I relate my experience with lymphoma. I also have a video, "Healing through Art", based on my presentations. I have spoken to patients, survivors, health professionals, and many whose lives have been touched by cancer. Go to my store to find out about buying my book or DVD today!
Here are two sites you may find interesting and informative.
National Coalition for Cancer Survivorship – National advocacy organization.
Myself Resolved: An Artist Confronts Cancer – Univ. Penn  Online Books.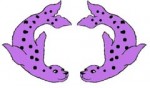 This is my symbol for hope and the gift of life.  It is derived from my paintings Seals I and Seals II, in the "Lymphoma Series." I saw this image while on oxygen in the Intensive Care Unit, after life-saving surgery from a liquid tumor, which nearly drowned me.