You can order copies of Books and DVDs. Just complete the contact form on my contact page and I'll get back to you so your items can be shipped as soon as possible!
BOOKS: MYSELF RESOLVED: An Artist Confronts Cancer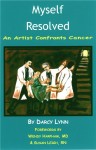 "Here is the story of brash interns and kind surgeons, chemotherapy and radiation therapy, diagnosis and misdiagnosis, and ultimately of coming to terms with life and death. MYSELF RESOLVED juxtaposes the technical with the humane, as viewed through the eyes of an artist, and takes us on a journey where laughter truly is the best medicine."
The book is illustrated with the Complete Lymphoma Series as well as humorous drawings. Order now for $10. Postage and handling extra. Save $5: Get two Books for $15!
DVD

Healing Through Art
Through personal narration and paintings, Healing Through Art tells the story of how I fought the battle against cancer using my art as a healing tool and how others in similar situations may benefit from expressive therapy. See how a serious illness can change a person's life perspective and how expressing one's inner emotions creatively can facilitate the healing process and help to produce positive results.
HEALING Through Art Order either VHS or DVD now for $15. Postage and handling extra.
Reviews of my DVD: Online Read Video Review at OncoLink Online Library.
"Darcy Lynn's excellent film and book on how her own painting helped her to battle cancer have been used by many art therapists in teaching both practitioners and the public about the healing power of art." – Judith A. Rubin, Ph.D., ATR-BC, HLM Past President [and Honorary Life Member], American Art Therapy Association.
PRINTS
GICLEE PRINTS NOW AVAILABLE,  ORDER YOURS TODAY!
My Giclée prints are 11″ x 14″. Select from images above. $40.00 each.  Inquire about my other unframed prints which are 8 1/2″ x 11″, printed on high quality paper . Prices start at $20. Prices do not include postage and sales tax, where applicable.